Posted: September 3, 2015
Filed under: Alarmism, Eco-Activists, Glaciers, Obama
| Tags: Activism, Alaska, Barack Obama, climate, EPA, Glaciers, Lies, Politics
1 Comment
Yet another excellent example of how real world evidence (the science) is turned on its head to promote the activist climate agenda.

President Eisenhower warned America about the likes of Barack Obama in 1960 :

"The prospect of domination of the nation's scholars by Federal employment, project allocations, and the power of money is ever present and is gravely to be regarded.

Yet, in holding scientific research and discovery in respect, as we should, we must also be alert to the equal and opposite danger that public policy could itself become the captive of a scientific technological elite."

– President Eisenhower 1960
NOT A LOT OF PEOPLE KNOW THAT
By Paul Homewood
http://www.breitbart.com/big-government/2015/09/01/whats-really-melting-obamas-alaskan-lies/
Steve Milloy's take on Obama's Alaskan trip, which seems to have been a waste of time anyway:
President Obama's hike up the rapidly melting Exit Glacier today has run into some unfortunate buzzkill: reality.
The hike is supposed to be the high point of this week's trip to Alaska, undertaken for the purpose of dramatizing global warming. The media pitch is that Exit Glacier has been rapidly retreating for decades because of global warming.
Sadly for the President's play acting, though, the National Park Service previously reported that Exit Glacier has been exiting since at least the early 1800s — before the Industrial Revolution even got underway.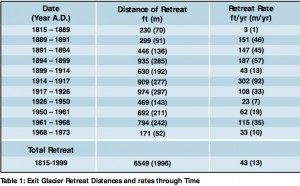 This isn't the only intrusion of reality into the President's staged climate drama.
While the President made big news announcing that he was changing the name of Mt. McKinley to Denali, the irony is that multiple glaciers there are…
View original post 123 more words
---