Posted: April 1, 2018
Filed under: Alarmist media, Alarmist Predictions, Climate science, Climatism, Cult Science, Failed Green Schemes, Government Grants/Funding, Govt Climate Agenda, Green Agenda, Green Energy, infrasound, Pal-Review, Unreliables, Wind Farms, Wind Turbine Syndrome (WTS)
| Tags: Bees, Climate alarmism, Climate Change, Climate Change Funding, climate money, Climatism, Farming, Global Warming, Government grants, Green Taxes, Greens, Industrial Wind, infrasound, Korea, Mainstream media, Monopolistic Funding, Pal-Review, unreliables, Wind Energy, Wind Farms, wind revolt, Wind Turbine Syndrome
Leave a comment
CLIMATE alarmism's primary objective is to scare you and policy makers into belief such that your taxes are effortlessly diverted, with little to no scrutiny, into research grants and green schemes and scams to supposedly stop bad weather by changing the temperature of the planet. Yet, no one can ever tell you by how much the temperature will change for each dollar spent. But alas, "Saving The Planet" is far more important than how your hard-earned money is spent, right?
CLIMATE research is paid for by you in the form of government grants. And, thanks to the system of pal peer-review, the most scary studies, prefaced by "anthropogenic" are given the green light, published in science journals with results interpreted by the compliant mainstream media and delivered back to you, to scare you even more such that you will happily donate more money to the scam research.
A google search with key words [climate research + climate change worse than we thought] illustrates 1,960,000 times in 0.45 seconds the effect that monopolistic or one-way funding has on published results…
---
Posted: June 4, 2017
Filed under: Carbon Tax, Climate Money, COP22, Energy Poverty, Environmentalism, Failed Green Schemes, Green Agenda, UN, UNEP, UNFCCC, Wealth Redistribution
| Tags: Carbon Dioxide Hoax, Carbon Tax, Climate Change, Climate Change Hoax, Global Warming Scam, Green Climate Fund, Green Taxes, MAGA, Paris, Paris Accord, Trump, UN, UNEP, UNFCCC
Leave a comment
Hard-earned US taxpayer funds diverted to third-world countries (often run by tin-pot dictators) via the unelected bureaucratic behemoth – the United Nations. What possibly could go wrong?!

Donald J Trump – protecting US incomes with accountability and transparency for its careful use where needed. And yet Trump's the bad guy?!
Watts Up With That?
Yeah, this is why President Trump said 
"We will cease honoring all non-binding agreements", and "we will stop contributing to the green climate fund".

"I can not in good conscience support a deal that harms the United States".

"The bottom line is that the Paris Accord is very unfair to the United States".

"This agreement is less about climate and more about other countries getting a financial advantage over the United States".
The United States contributed $1 billion to the global Green Climate Fund, but the world's top polluters contributed nothing, David Asman reported.
via Fox news here
---
Posted: August 2, 2016
Filed under: BIG Government, Carbon Dioxide, Carbon Tax, Fact Check, Failed Green Schemes, Govt Climate Agenda, Green Energy, Renewables, Solar, Taxpayer waste, Unreliables, Wind Farms
| Tags: Fuel Poverty, Green Energy Failure, Green Taxes, solar, Solar panels, wind energy scam, Wind Farms
Leave a comment
Unreliable energy insanity update …
Science Matters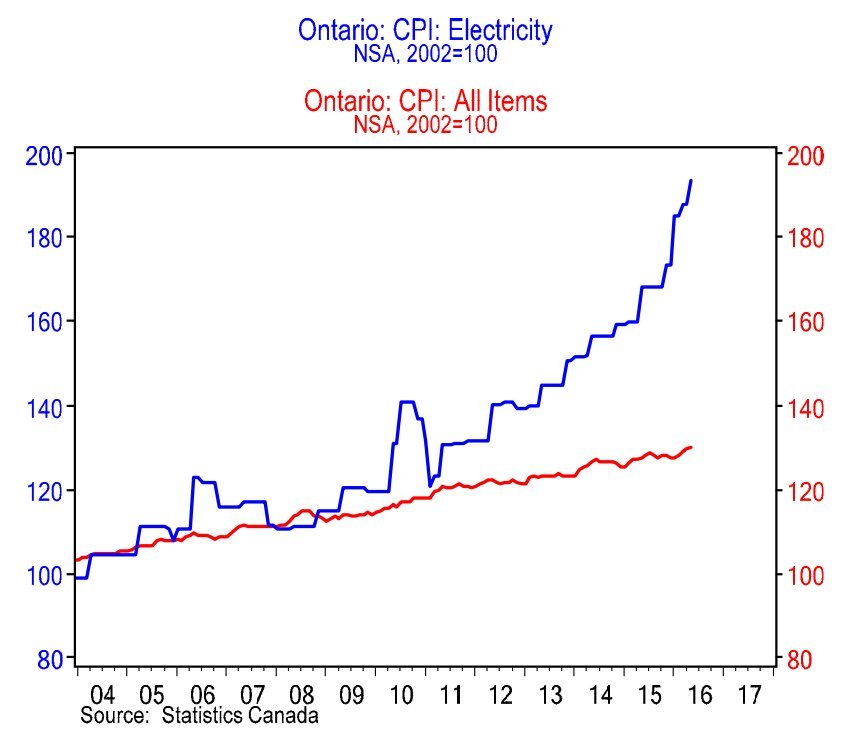 Consumer Price Index: Ontario Electricity compared to all items, from 2004. Chart: Bank of Montreal.
Rising electricity rates in Ontario are hitting residents and businesses hard. They have gone "out of control" as the Liberal provincial government followed through on eliminating coal-fired power stations.
Brian Hill at Global News provides the back story, a frightening and cautionary tale of "fighting climate change" by pricing away your affordable power grid.
Energy Mix, Electrical Sector
The energy mix in Ontario's electrical sector is dominated by hydro and nuclear, so getting off coal seemed doable.  But in the provincial government's drive to reduce CO2 emissions and join the California Emissions Trading Scheme, they have hardwired costly energy contracts that Ontarians will pay for through their noses for decades. Meet the Global Adjustment Fee (covering a multitude of sins and mismanagement).
What is the Global Adjustment fee? The mysterious cost Ontario hydro customers must pay
View original post 783 more words
---