Posted: November 6, 2022
Filed under: Climate Change, Global Warming, snow, Snow Pack
| Tags: Avalanche, Catastrophic Anthropogenic Global Warming, Climatism, Global Warming, snow, Snowpack
1 Comment
Snowfall will become "A very rare and exciting event…
Children just aren't going to know what snow is."
Dr David Viner – Senior scientist, climatic research unit (CRU)
"Resorts could lose up to 40% of snow by 2020" – @CSIRO (2003)
"Winters with strong frosts and lots of snow
like we had 20 years ago will no longer exist at our latitudes."
– Professor Mojib Latif (2000)
"Good bye winter. Never again snow?" – Spiegel (2000)
"Milder winter temperatures will decrease heavy snowstorms" – IPCC (2001)
"End of Snow?" – NYTimes (2014)
•
H/t @Bergeonline
"It's safe to say we've seen it all now."
This is how WeatherZone.com–unlikely sceptics of the Catastrophic Anthropogenic Global Warming (CAGW) religion–opened their article reporting on extremely rare, if not unheard of, avalanches in Victoria in November.
Their overt surprise not out of context.
Climate models from the 1970s have consistently predicted that CO2-induced global warming climate change should be causing a significant decline in total snow cover. However, global snow cover has actually increased since at least the start of the record (Connolly et al., 2019), leading to some scepticism within the scientific community about the validity of UN IPCC climate models that directly drive costly global warming climate change catastrophism.
Perhaps that same healthy scepticism may well increase, amongst academics and mainstream media institutions, thanks to global warming climate change narrative-contradictions like 'Avalanches in Victoria in November!'
Though, don't hold your breath. The ClimateChange™️ eco-scare is strong and will not die quickly. Too many jobs, reputations, taxpayer trillions, and egos are now at stake.
•
Oh, just a November Aussie avalanche
ANTHONY SHARWOOD, 03 NOV 2022, 10:38 AM AEDT
It's safe to say we've seen it all now.
We've seen snow fall in late spring and even in summer on the Australian mainland. We've also seen Aussie winter snow so heavy that it caused avalanches – a hazard more commonly associated with much more mountainous countries, but which does happen here. There have even been fatalities over the years.
READ MORE: Our story on Victorian avalanches after this year's heavy June snowfalls
But we've never seen an out-of-season snowfall with heavy enough accumulation to cause a significant snow slide. Until now.
Snowy Mountains local Steve Smith (not a great cricketer but definitely a better skier than his famous namesake) got up early on Wednesday morning to take advantage of the unseasonable snowfalls, which you can read about here and here.
No ski lifts are open at this time of year, so he drove up towards the Charlotte Pass ski resort, where he hiked up the slopes of Mt Guthrie to earn a few turns on about 30 to 40 cm of fresh November snow.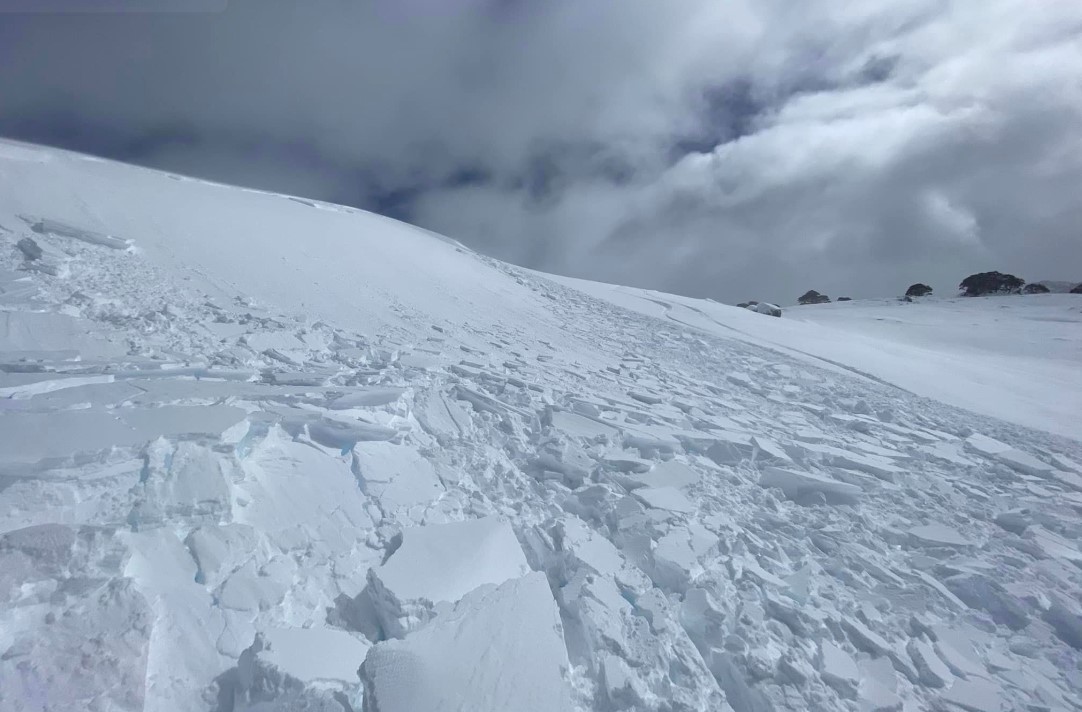 Image: Avalanches were definitely not on our weather bingo card for Novrmber. Source: Steve Smith.
That's when trouble struck. As he started skiing down, the snowpack broke away from itself and started sliding in large chunks, triggered by his skis. Look carefully and you can see his tracks to the right of the slide in the image above.
Below is a shot of the same slide from a different angle.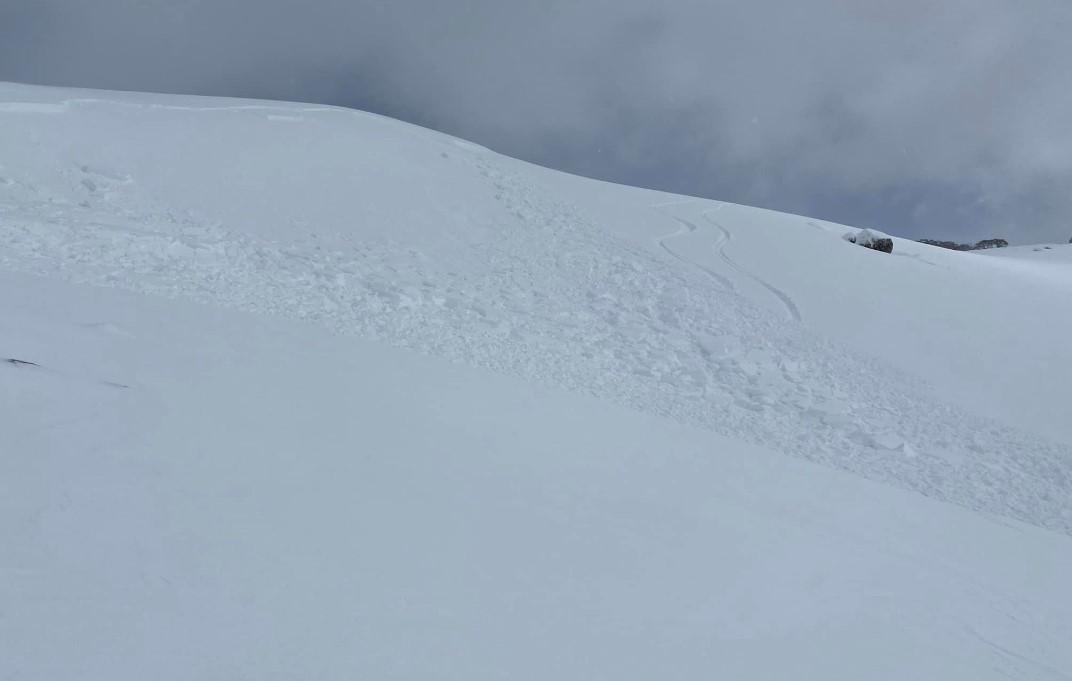 Image: Stay safe out there, folks, this can happen to you. Source: Steve Smith.
Frighteningly, Steve was caught in the slide but as he told Weatherzone, "I just relaxed and rode it out for a few seconds. No big deal. Pretty gentle terrain in there."
For the record, Steve is an experienced back country skier who has had avalanche training. He skis with a full safety kit, and so should you if you ever venture out to the back country in any season.
But it was still a lucky escape, as avalanches can bury you even on gentle terrain like the terrain in the images above.
"Take care out there," Steve warned his fellow back country adventurers who will doubtlessly be heading out in flocks in coming days before this November snow melts.
"Out on the higher alpine terrain, I reckon the avalanche risk is real for a few days till it settles down."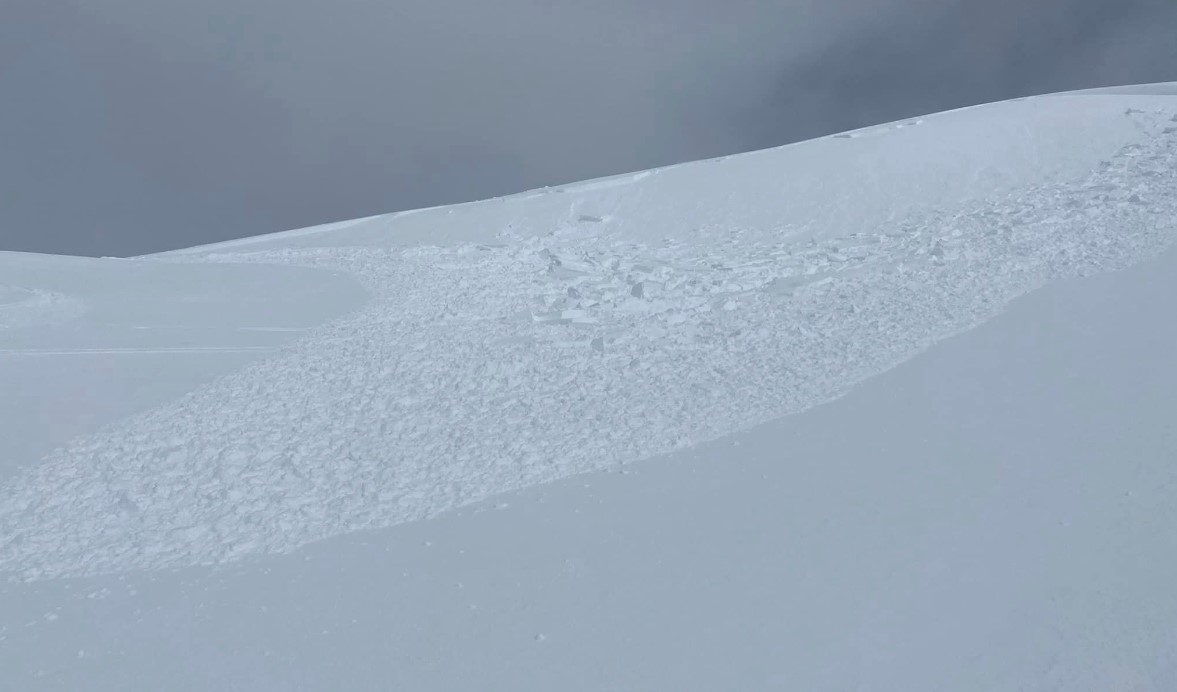 Image: Same avvy, from a slightly different angle. Source: Steve Smith.
If you do happen to be heading to the high country of Victoria and NSW this weekend for any reason, the forecast is for cool, partly cloudy weather with the chance of a light shower or two (of rain, not snow), especially on Sunday.
Oh, just a November Aussie avalanche | WeatherZone
•••
Related :
---
Posted: August 7, 2017
Filed under: Alarmism Debunked, Alarmist Predictions, Australia, BoM, Climate Changes, Climate science, Climatism, CSIRO, Dud predictions, Extreme Weather, Fact Check, Fossil Fuels, Government Grants/Funding, Govt Climate Agenda, Green Agenda, IPCC, Settled Science, Snow Pack
| Tags: Australia, Avalanche, BoM, Buller, Bureau of Meteorology, Climate Change, CSIRO, David Jones, Dud Predictions, Falls Creek, global cooling, Global Warming Hoax, Hotham, IPCC, nasa, Perisher, snow, Snow Pack Data, South Australia, Thredbo, UN, UNEP, Weather
2 Comments
Australian snowfields rejoice after 'Blizzard of Oz' turns slopes into winter wonderland
It's been dubbed "the Blizzard of Oz", and powder hounds could not be happier.

Australia's ski resorts in the Snowy Mountains, in New South Wales, and Victoria's Alpine National Park were covered with the white stuff this morning after both reported the best falls of the season at the weekend.

More than 1.15 metres of snow has been dumped at Thredbo from Friday morning to 6:00am today.

PHOTO: More than 1.15 metres of snow has been dumped at Thredbo. (Instagram: @_carlyt) 

PHOTO: Mt Hotham, in Victoria's Alpine National Park, looked more like Europe at the weekend. (Instagram: @sarahwhite2017)PHOTO: The snow at Falls Creek. (Instagram: @fallscreek)
•••
BUT, wasn't 'snowfall' meant to be "a very rare and exciting event." And, that "Children just aren't going to know what snow is." ?
Those expert predictions made back in 2000 by esteemed climatologist Dr David Viner of the UK's CRU (Climate Research Unit):
From the Independent's most cited article: "Snowfalls are now just a thing of the past" by Charles Onians:
However, the warming is so far manifesting itself more in winters which are less cold than in much hotter summers. According to Dr David Viner, a senior research scientist at the climatic research unit (CRU) of the University of East Anglia,within a few years winter snowfall will become "a very rare and exciting event".

"Children just aren't going to know what snow is," he said.
THE Independent has since removed the article! The page used to look like this:
The original article:
Link now boots back to their homepage.
Our friends at WUWT have preserved the entire article as a PDF for posterity:
Snowfalls are now just a thing of the past – The Independent (PDF)
In fairness, perhaps the good Dr Viner was colluding consulting with the virtuous partners of climate catastrophe expertise – the UN IPCC who, as well, predicted diminished snowfalls as human CO2 increased…
IPCC Third Assessment Report – Climate Change 2001 – Complete online versions | GRID-Arendal – Publications – Other
IPCC – Intergovernmental Panel on Climate Change
Australia's "premier" scientific government organisation, the (warmist) CSIRO, jumped on the "end of snow" bandwagon in August 2003:
Simulations of future snow conditions in the Australian alpine regions were prepared for the years 2020 and 2050…

Conclusion:

The low impact scenario for 2020 has a minor impact on snow conditions. Average season lengths are reduced by around five days. Reductions in peak depths are usually less than 10%, but can be larger at lower sites (e.g. Mt Baw Baw and Wellington High Plains).

The high impact scenario for 2020 leads to reductions of 30-40 days in average season lengths.  At higher sites such as Mt Hotham, this can represent reductions in season duration of about 25%, but at lower sites such as Mt Baw Baw the reduction can be more significant (up to 60%)…

We have very high confidence (at least 95%) that the low impact scenarios will be exceeded and the high impact scenarios will not be exceeded.

https://www.climatechange.vic.gov.au/__data/assets/pdf_file/0015/73212/TheImpactofClimateChangeonSnowConditions2003.pdf 

(Page Not Found – LOL !)
In 2014, the New York Times signalled "The End of Snow":
The End of Snow? – NYTimes.com
•••
BACK IN THE REAL WORLD
Winter Northern Hemisphere snow extent is trending upwards, and 2017 was amongst the highest on record, despite rising CO2 emissions and the "Hottest Year Evah" thing:
Rutgers University Climate Lab :: Global Snow Lab
AND as for the expert predictions of the CSIRO, who assured us of the end of snow by 2020/2030…
Australia's snowfields have been overdosed by snow over the past decade.
In fact, SH snow extent is increasing as global CO2 rises – the exact opposite of what you were told by all those experts…
2016 – Extended season:
Heavy snow forecast for the Australian Alps despite ski season ending a month ago
2017 – THE "Blizzard Of Oz" ! :
Blizzards close in on Melbourne, floods hit South Australia | The Australian
WHEN will those expert scientists, esteemed government agencies and respected mainstream media outlets who peddle the fake global warming catastrophe, spreading scientific falsehoods with impunity, be held to account? Or at least admit they got it wrong?
That "science" certainly ain't "settled".
•••
UPDATE – August 8, 2017
Emergency services warn of avalanches in Victoria's alpine region
EMERGENCY services have issued an avalanche warning for Victoria's alpine region as tourists have been urged to avoid skiing, snowboarding, or hiking in remote areas.

Warmer weather and strong wind is expected to increase the risk of avalanches at Mt Bogong, mt feathertop, Mt Buller, Mt Hotham and Falls Creek today.

Victorian alpine region: avalanche warning issued for skiers, snowboarders | Herald Sun
DO hope SMH's (Fairfax media) resident global warming catastrophist Peter Hannam has received this alert, if he plans to visit Australia's ski fields. The one's that he and those expert scientists say won't be around much longer thanks to you and your SUV…
Snowy retreat: Climate change puts Australia's ski industry on a downhill slope
 Peter Hannam
Related :
CSIRO Dud-Predictions Related :
---