Posted: August 16, 2018
Filed under: Alarmist media, Antarctica, Arctic, Carbon Dioxide, Climate science, Climatism, CO2, Drought, Empirical Evidence, Extreme Weather, Fact Check, Fake News, Fossil Fuels, Heat Wave, Hurricanes, IPCC, Polar Bears, Propaganda, Science, Sea Level Rise, State Of The Climate, UN
| Tags: Alarmism, Antarctica, arctic, carbon dioxide emissions, Climate Change, Climate science, Climatism, CO2, Consensus, Cyclones, drought, empirical data, Empirical Evidence, Extreme weather, Fake News, Global Warming, Hurricanes, IPCC, Mainstream media, sea level rise, Settled Science, State Of The Climate, Tornadoes
7 Comments
---
THE global warming climate change scare has absolutely nothing to do with the environment or "Saving The Planet". Rather, its roots lie in a misanthropic agenda engineered by the environmental movement of the mid 1970's, who realised that doing something about claimed man-made "global warming" would play to quite a number of the Left's social agendas.
IN THEIR (IPCC) OWN WORDS:
ENERGY rationing and the control of carbon dioxide, the direct byproduct of cheap, reliable hydrocarbon energy, has always been key to the Left's Malthusian and misanthropic agenda of depopulation and deindustrialisation. A totalitarian ideology enforced through punitive emissions controls under the guise of "Saving The Planet".
STANFORD University and The Royal Society's resident global warming alarmist and population freak Paul R. Ehrlich spelled out in 1976 the Left's anti-energy agenda that still underpins the current 'climate change' scare :
"Giving society cheap, abundant energy would be the
equivalent of giving an idiot child a machine gun."
– Prof Paul Ehrlich, Stanford University/Royal Society fellow
*
THE creator, fabricator and proponent of global warming alarmism Maurice Strong, founded UNEP and 'science' arm, the UN IPCC, under the premise of studying only human (CO2) driven causes of climate change.
STRONG and the UN's charter and agenda was clearly laid out before the 'science' of climate change was butchered and tortured to fit the global warming narrative…
"Isn't the only hope for the planet that the industrialized civilizations collapse? Isn't it our responsiblity to bring that about?" – Maurice Strong, founder of the UN Environment Programme (UNEP)

"Current lifestyles and consumption patterns of the affluent middle class – involving high meat intake, use of fossil fuels, appliances, air-conditioning, and suburban housing – are not sustainable." – Maurice Strong, Rio Earth Summit

"It is the responsibility of each human being today to choose between the force of darkness and the force of light. We must therefore transform our attitudes, and adopt a renewed respect for the superior laws of Divine Nature." – Maurice Strong, first Secretary General of UNEP
*
FORMER Australian PM Julia Gillard, who implemented Australia's ruinous and politically destructive 2011 carbon tax, was open in expressing its core function to 'drive substantial changes in patterns of energy production and energy use.'
*
THE climate fix was in from the start, and now we're paying for it, big time, in the form of unreliable energy, skyrocketing power bills, energy poverty, economic ruin and death…
*
STATE OF THE CLIMATE
CLIMATE catastrophists blame humans and their use of fossil fuels for the purported destruction of climate with "tipping points" and "runaway global warming" some of the emotional descriptors driving the narrative.
LET'S check out the most well known environmental metrics used by the Climate Crisis Industry to push their global warming scare and see exactly what damage fossil fuels and harmless byproduct CO2 are doing to Gaia…
*
ANTARCTICA
ANTARCTICA, the 'inconvenient' pole, the naughty child, has been gaining ice mass and cooling for decades, despite a 20 per cent increase in atmospheric CO2, and model predictions to the contrary.
2017 Study
From the abstract :
Mass changes of the Antarctic ice sheet impact sea-level rise as climate changes, but recent rates have been uncertain. Ice, Cloud and land Elevation Satellite (ICESat) data (2003–08) show mass gains from snow accumulation exceeded discharge losses by 82 ± 25 Gt a−1, reducing global sea-level rise by 0.23 mm a−1.

Mass gains of the Antarctic ice sheet exceed losses | Journal of Glaciology | Cambridge Core
SEE more :
*
ARCTIC
OVER the past decade, the Arctic has seen a large increase in multi-year, thick sea-ice.
---
Posted: June 29, 2018
Filed under: Alarmism, Alarmism Debunked, Alarmism uncovered, Alarmist media, Alarmists, Arctic, Climate Alarmism, Climate History, Climatism, Glaciers, Greenland, Religion
| Tags: Alarmism, Alarmism Exposed, arctic, Blankets, carbon dioxide emissions, Climate Change, Climate history, Climatism, Glacier, Glaciers, global cooling, Global Warming, Global Warming Scare, Greenland, Mother Nature, Religion, Rhone Glacier, Science and Environment, Switzerland, Warmism, WEF
1 Comment
---
"Men are born ignorant, not stupid.
They are made stupid by education."
– Bertrand Russell
*
Via (U.N) World Economic Forum :
Every summer for the last eight years, people who live in the Swiss Alps have been wrapping a beloved glacier in blankets.

The white canvas blankets are intended to reflect sunlight off the Rhone Glacier, to try to reduce how much of it disappears each year. And Swiss glaciologist David Volken says it's probably working; he told Agence France-Presse the blankets may reduce seasonal melting by as much as 70%.

The Rhone Glacier is a popular tourist destination that has been shrinking rapidly over the last decade; of the roughly 1,148 feet (350 meters) in ice thickness lost since 1856, 131 ft has disappeared in the last 10 years alone, according to AFP. Thus the blankets.

It's a rare approach, but not unprecedented, notes E&E News: People swaddle glaciers with reflective material in places in Italy and Germany, and Jason Box, a glaciologist with the Geological Survey of Denmark and Greenland, began advocating for covering sections of the Greenland ice sheet with reflective material as early as 2009.

Polar geoengineering ideas aren't limited to blankets. At the annual meeting of the European Geosciences Union last spring, a research group from Utrecht University proposed blowing artificial snow across Switzerland's Morteratsch Glacier, to help reflect sunlight, according to E&E News.
*
NOT sure whether to put this down to nostalgia, tourism, hubristic madness or simply an act of climate derangement syndrome?
BUT, one thing is a given – this almost 'artistic' yearly ritual, in defiance of Mother Nature is, no doubt, brought on by fear and anxiety over the perceived ill effect that mankind's excesses and emissions are having on glaciers and the climate.
IT'S a shame that the good residents of the Rhone Glacier weren't around in 1857 to spare a few blankets for Washington's most famous glacier, Nisqually, that retreated 3,200 feet and lost 200 feet of thickness between 1857 and 1918…
COINCIDENTALLY, the Swiss Rhone Glacier began its retreat in 1856, a year before Nisqually in Washington began its melt…
"The Rhone Glacier is a popular tourist destination that has been shrinking rapidly over the last decade; of the roughly 1,148 feet (350 meters) in ice thickness lost since 1856…"
*
TONNES more blankets would have come in handy in 1902 when the Rhone Glacier was disappearing at alarming rates during NASA's coldest years on record…
GLACIERS disappearing during NASA's coldest years on record… Read the rest of this entry »
---
Posted: May 3, 2016
Filed under: Climate Fraud, Data Tampering, Gavin Schmidt, Greenland, NASA
| Tags: Data Fraud, Data Tampering, Gavin Schmidt, nasa
Leave a comment
Real Science
NASA didn't like the 1940's warmth in Greenland, so they simply made it disappear.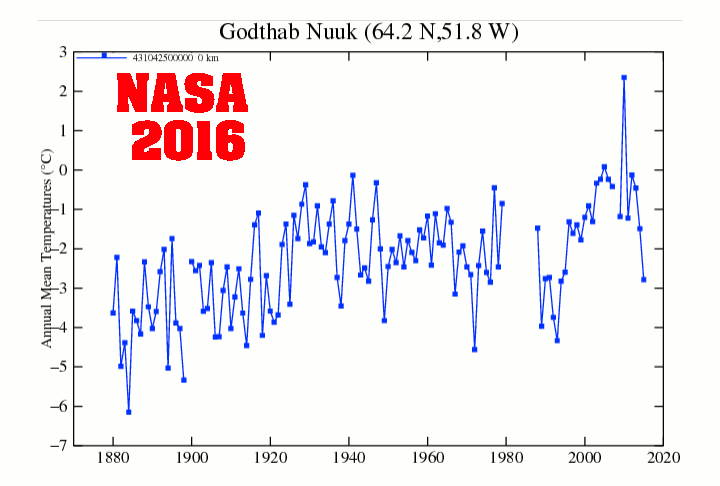 ---