Posted: January 16, 2017
Filed under: Alarmism uncovered, Alarmist Predictions, Climate Alarmism, Dud predictions
| Tags: cancelled, Dr David Viner, Dud Predictions, fear-mongering, Global Warming Alarmism, Global Warming Scam, snow, world cup skiing
Leave a comment
Year 2000 : According to Dr David Viner, a senior research scientist at the climatic research unit (CRU) of the University of East Anglia,within a few years winter snowfall will become "a very rare and exciting event".
"Children just aren't going to know what snow is," he said.

Climate change alarmist dud-prediction #1,324,567 and counting…

LOL ❄️😂❄️
Tallbloke's Talkshop
Credit: myswitzerland.com
The BBC's report mentions a 'cold snap' but it's been around for a while now in many parts of Europe.
A famous downhill race in the Skiing World Cup has been cancelled – because there has been too much snow.
Saturday's race at the Lauberhorn course in Wengen, Switzerland, was dropped after more than 40cm (16in) of snow fell overnight. Crews worked through the night but were unable to prepare the piste in time.
After a dry start to the ski season in December, resorts are now dealing with heavy flurries as a cold snap grips Europe.

View original post 62 more words
---
Posted: January 16, 2017
Filed under: Climate Fraud, Data Tampering, Environmentalists, Extreme Weather, Fact Check, Government Grants/Funding, NOAA, Pseudo-Science
| Tags: climate change activists, Climate Change Scam, climate fraud, Data Fraud, Global Warming Activist, Global Warming Scam, NOAA, Scientific Fraud, Tom Karl, Tornadoes
Leave a comment
NOAA TORNADO LIES: Another solid example of why government climate agencies like NOAA, NASA, CSIRO, BoM, MetOffice – run by a handful of activist administrators, are the last places to hear or read the truth on "global warming" aka "climate change".

"The bottom line is that the NOAA headline graph is grossly dishonest. Indeed, if a company published something like that in their Annual Accounts, they would probably end up in jail!

NOAA themselves know all of this full well.
Which raises the question – why are they perpetuating this fraud?"

Read all of the excellent deconstruction of yet more NOAA fraud via Paul Homewood here…
NOT A LOT OF PEOPLE KNOW THAT
By Paul Homewood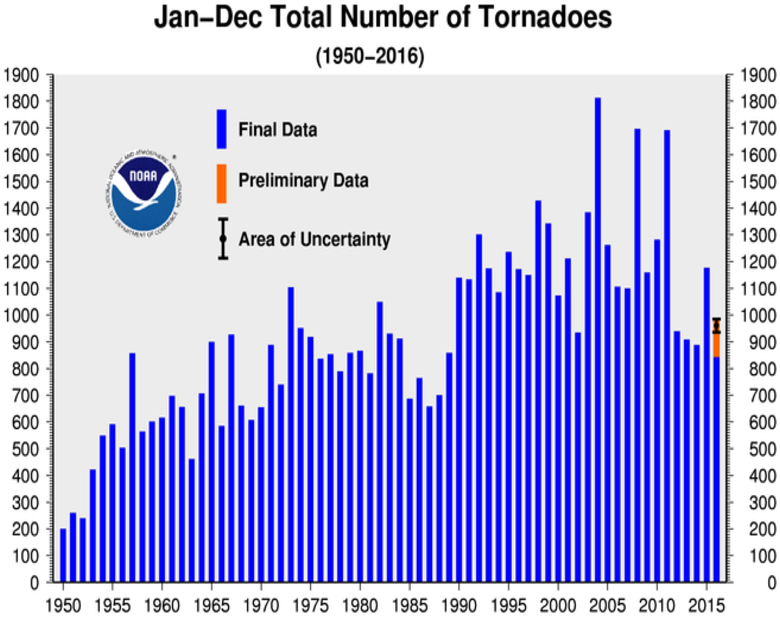 https://www.ncdc.noaa.gov/sotc/tornadoes/201613
According to NOAA, the number of tornadoes has been steadily growing since the 1950s, despite a drop in numbers in the last five years.
They show the above chart prominently in their Tornadoes – Annual 2016 Report.
However, they know full well that it is meaningless to compare current data with the past, as they explain themselves in the section Historical Records and Trends, which is hidden away on their own website:
One of the main difficulties with tornado records is that a tornado, or evidence of a tornado must have been observed. Unlike rainfall or temperature, which may be measured by a fixed instrument, tornadoes are short-lived and very unpredictable. If a tornado occurs in a place with few or no people, it is not likely to be documented. Many significant tornadoes may not make it into the historical record since Tornado Alley was…
View original post 592 more words
---