Electrical Madness in Green Ontario
Posted: August 2, 2016
Filed under: BIG Government, Carbon Dioxide, Carbon Tax, Fact Check, Failed Green Schemes, Govt Climate Agenda, Green Energy, Renewables, Solar, Taxpayer waste, Unreliables, Wind Farms
| Tags: Fuel Poverty, Green Energy Failure, Green Taxes, solar, Solar panels, wind energy scam, Wind Farms
Leave a comment
Unreliable energy insanity update …
Science Matters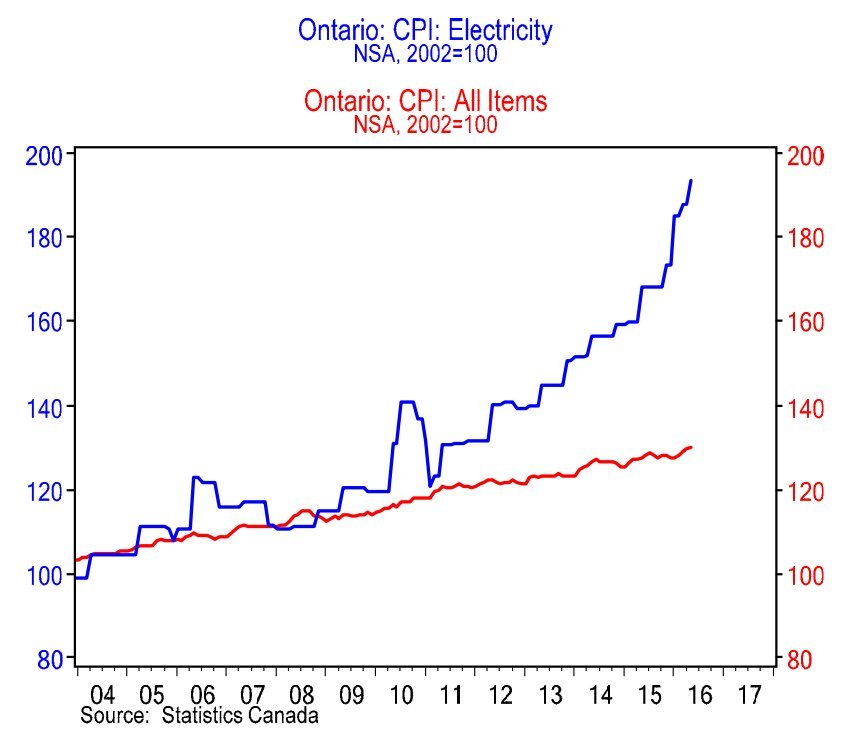 Consumer Price Index: Ontario Electricity compared to all items, from 2004. Chart: Bank of Montreal.
Rising electricity rates in Ontario are hitting residents and businesses hard. They have gone "out of control" as the Liberal provincial government followed through on eliminating coal-fired power stations.
Brian Hill at Global News provides the back story, a frightening and cautionary tale of "fighting climate change" by pricing away your affordable power grid.
Energy Mix, Electrical Sector
The energy mix in Ontario's electrical sector is dominated by hydro and nuclear, so getting off coal seemed doable.  But in the provincial government's drive to reduce CO2 emissions and join the California Emissions Trading Scheme, they have hardwired costly energy contracts that Ontarians will pay for through their noses for decades. Meet the Global Adjustment Fee (covering a multitude of sins and mismanagement).
What is the Global Adjustment fee? The mysterious cost Ontario hydro customers must pay
View original post 783 more words
---