Posted: June 13, 2016
Filed under:
Uncategorized
1 Comment
Radidly decling NAO has "implications for the climate cooling in coming decades."
Science Matters
The RAPID moorings being deployed in North Atlantic. Credit: National Oceanography Centre
In the comments on a previous post (here) ren points to the declining NAO, with the implication that a cooling phase is underway in the North Atlantic SSTs.  The cold blob in the North Atlantic was subject of a post here and elsewhere, and Paul Homewood posts today (here) on the increasing cold water, not only surface but coming from below.
Dr. Gerard McCarthy is a lead researcher on the RAPID array project measuring the AMO heat transport and provides a good context on their observations and the implications for the climate cooling in coming decades.
Our results show that ocean circulation responds to the first mode of Atlantic atmospheric forcing, the North Atlantic Oscillation, through circulation changes between the subtropical and subpolar gyres – the intergyre region. This a major influence on the wind…
View original post 178 more words
---
Posted: June 13, 2016
Filed under:
Uncategorized
Leave a comment
North Atlantic ocean temps dropping rapidly, inline with atmospheric temps dropping rapidly, post El Niño.

Meanwhile trace gas CO2 increases. Ergo, CO2 versus Temp correlation?
NOT A LOT OF PEOPLE KNOW THAT
By Paul Homewood
h/t Greensand
Ole Humlum's excellent site, Climate4you, has just published the latest Ocean Heat Content data, now up to March 2016. They show some interesting things happening in the North Atlantic.
First, let's look at the area highlighted below: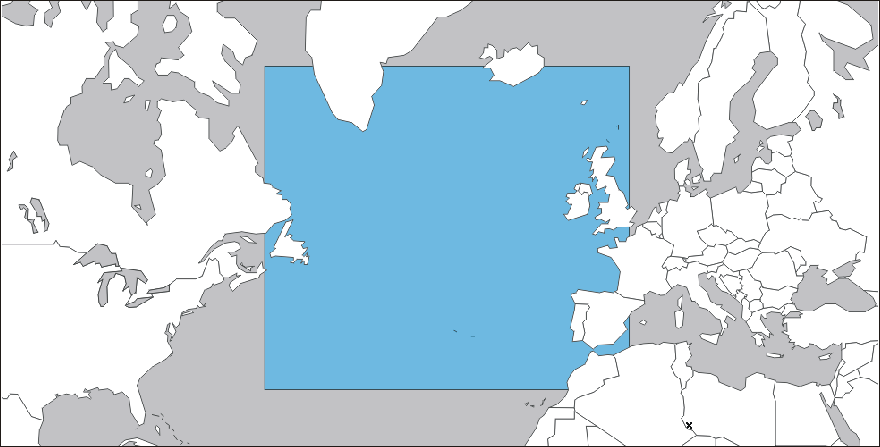 Map showing the North Atlantic area within 60-0W and 30-65N, for which the heat content within the uppermost 700 m is shown in the two diagrams below.
Global monthly heat content anomaly (GJ/m2) in the uppermost 700 m of the North Atlantic (60-0W, 30-65N) ocean since January 1955. The thin line indicate monthly values, and the thick line represents the simple running 37 month (c. 3 year) average. Data source: National Oceanographic Data Center (NODC). Last period shown: January-March 2016. Last diagram update 7 June 2016.
We have become familiar with the cold blob, which has developed at the ocean surface in the northern part of the…
View original post 309 more words
---
Posted: June 13, 2016
Filed under: Alarmism Debunked, Alarmist media, Carbon Dioxide, Climate Alarmism, Climate Council, Climate Fraud, Climate science, Climatism, Coral Bleaching, Dud predictions, Eco-Activists, Empirical Evidence, Extreme Weather, Fact Check, Flannery, Floods, Global Warming Zealots, Govt Climate Agenda, Green Agenda, Ideology, Pseudo-Science, Scientific Fraud, Tim Flannery, Weather
| Tags: Alarmism, Alarmism debunked, Climate Change Alarmism, Fact Check, IPCC, Malcolm Turnbull, pseudo-science, Tasmania Floods, Tim Flannery
2 Comments
"So even the rain that falls isn't actually going to fill our dams and our river systems…" Tim Flannery 2007
"This planet is on course for a catastrophe.
The existence of Life itself is at stake."
– Dr Tim Flannery,
Climate Council
•••
Prime Minister Malcolm Turnbull meets flood victims. Picture: ADAM TAYLOR
Column – How warming extremists rule our universities | Herald Sun Andrew Bolt :
A LINE has been crossed now Prime Minister Malcolm Turnbull is telling massive porkies about the Tasmanian floods.
It's time to declare war on global warming extremists.
I don't mean war on Turnbull, himself. He's just parroting popular untruths. No, I mean war on the extremists who feed him his falsehoods — the alarmists, Marxists and other Leftists who have seized control of our universities and punished the few academics who still dare challenge them.
Last week, Turnbull inspected the flood damage in Tasmania and, in just one widely reported comment, said three false or misleading things that hype the global-warming scare.
Tasmanians "have never seen as much water move as quickly as this," he claimed.
"Certainly, larger and more frequent storms are one of the consequences that the climate models and climate scientists predict from global warming."
Falsehood one: Tasmania actually suffered worse floods in 1929, when 22 people were killed after 500mm of rain was dumped in just three days over Burnie and Ulverstone.
Remembering the 1929 Launceston floods

(1929 Flood Insert via Climatism)
Falsehood two: Climate experts, in fact, used to claim we'd face droughts, not floods. Climate Council chief Professor Tim Flannery in 2007 famously warned: "Even the rain that falls isn't actually going to fill our dams and our river systems."
Falsehood three: Most climate scientists haven't predicted more or larger storms at all.
In fact, in its latest report, the biggest group of climate scientists, the Intergovernmental Panel on Climate Change, admitted there was very little confidence in such claims.
In the report's own words: there was "low confidence in observed trends in small-scale severe weather phenomena such as hail and thunderstorms" and "low confidence regarding the sign of trend in the magnitude and/or frequency of floods".
As for "heavy precipitation" of the kind just seen in Tasmania, the IPCC conceded that in areas "such as southern Australia and western Asia — there is evidence of decreases".
That's less heavy rain, not Turnbull's more.
But as I say, what does Turnbull really know about global warming, other than that it's fashionable to be an alarmist?
The real problem is this: name one university academic — a single climate scientist, physicist, meteorologist or historian — who publicly pointed out Turnbull was wrong. Most seem only too happy with such fearmongering.
True, there are a few brave sceptics left in academia. But they know the danger of speaking out, now the militant Left is so powerful in our universities and so hostile to debate.
The latest evidence: the threatened sacking of marine scientist Professor Peter Ridd, who has long warned that alarmist scientists were exaggerating the alleged damage done by global warming to the Great Barrier Reef, and getting big grants for it.
Ridd has been censured by James Cook University and threatened with the sack for "failing to act in a collegial way" by exposing this alarmism.
He'd wickedly pointed out that the Centre of Excellence for Coral Studies and the Great Barrier Reef Marine Park Authority had published misleading photographs
of coral reefs near Stone Island — one taken in the late 19th century and the other in 1994 — which they'd claimed showed healthy coral had vanished.
As Ridd noted, there was no way of knowing if the photographs were of the same place, and coral cover could vary wildly in the same area. Nor could anyone know why coral seen in the 1800s was gone a century later.
Ridd could also have added that a new survey from the Australian Institute of Marine Science of 12 reefs off Townsville has found coral cover on 11 had recovered since Cyclone Yasi, and seven of the reefs had more coral now than 30 years ago.
But how crazy is his punishment? Since when did querying the claims of a fellow academic amount to a crime against "collegiality"?
This smacks of enforcing group think with threats of dismissal. Don't universities do debate any more?
Seems not.
(Prof. Peter Ridd links added by Climatism)
In 2013, Professor Bob Carter, the retired head of the Marine Geophysical Laboratory at this same James Cook University, was dumped as an adjunct (unpaid) professor for what he believed was his internationally recognised work in exposing global-warming scares.
But even more shocking was the scandalous campaign to ban world-renowned political scientist Bjorn Lomborg, author of The Skeptical Environmentalist.
The University of Western Australia and Flinders University had each told the Abbott government they were interested in a grant to host Lomborg's Copenhagen Consensus think tank, to debate economic policies.
But staff and students at both universities mutinied, attacking Lomborg for having warned that much of the trillions of dollars spent to fight global warming made little difference.
The academics' union — the National Tertiary Education Union — should have defended an academic's right to question orthodox thinking.
Instead, it circulated a petition demanding Lomborg be banned for "downgrading the importance to the world of climate change mitigation".
The UWA caved first to these new witch-hunters, and then the new Turnbull Government canned the planned funding for Lomborg's centre.
But note this contrast: this same academics' union that silences warming sceptics will fight to defend Marxists — ideologues who subscribe to a totalitarian creed that inspired the murder of tens of millions of people. Last week, NTEU members even formed a guard of honour for one of their union delegates, avowed Marxist academic Roz Ward, to welcome her back to work at La Trobe University.
The university had suspended Ward after she demanded that our "racist" flag have its Union Jack replaced with the red ensign of socialism, claiming this dragged into disrepute Ward's taxpayer-funded Safe Schools program, which itself teaches children to think gender is "fluid" and to imagine themselves dating someone of their own sex.
But the university backed down after legal threats and protests from the NTEU, which then issued a press release crowing it had defeated "the Australian Right", responsible for "screeching sloganeering and fearmongering around action on climate change".
Now the NTEU is defending yet another Marxist academic and warming alarmist, journalism professor Martin Hirst, sacked by Deakin University after warning a commerce student who challenged his foully abusive tweets: "So are you happy to fail commerce?"
So it's hardly Turnbull's fault that he just goes with this warming flow, as set for him by professional alarmists and Marxists embedded in their university fortresses.
Why would he challenge this group think when he'd just get smashed anyway by the ABC — another powerful bastion of group think that refuses to let a single conservative or warming sceptic host any of its main current affairs shows?
You want Turnbull to think for himself on global warming? To take on the Leftist academic establishment and their media goons?
You ask too much. It takes a man or woman of guts and brains to stand up to them, and this country is critically short of such heroes.
Column – How warming extremists rule our universities | Herald Sun Andrew Bolt
•••
Climatism comment :
Some Monday mirthness with the "quote of the millennium" from professional climate change alarmist 'Tim Flannery' :
Ship of Hypocrites: Burn Some Carbon With Tim Flannery | Climatism
•••
Professional Climate Alarmist "Tim Flannery" Related:
---