Posted: August 30, 2015
Filed under: Climate Change, CO2, Global Warming, Wildfires
| Tags: Bush Fires, Carbon Dioxide, Climate Change, CO2, Forrest Fires, ideology, USA, Wildfires
Leave a comment
Climate zealots, Greens politicians (Obama) and their armchair sycophants, fail to acknowledge or realise that as CO2 has increased, wildfire acreage has decreased, where the U.S. is concerned.

But yes, facts and empirical evidence (science) are irrelevant when you're pushing "save the planet" ideology, and when that ideology "climate change" is now a $1.5 Trillion industry.
Real Science
Greens get hysterical when forests burn, because they don't understand anything about science, forests, or nature. Many species of trees can't exist without fire. Aspens are making a rapid comeback in California, thanks to the fires.

The Sangre de Cristo Mountains of Northern New Mexico (where I used to work as a wilderness ranger) have the tallest Aspen trees in the world.  These were the result of huge fires during the hot/dry 1890's.

New Mexico has been very wet the last two years, with few fires – and huge new Aspen Groves are growing around Los Alamos, which was hit by several large fires earlier this century.
Not only do greens not understand the climate, but they imagine they can control it. They are complete imbeciles, who have no business influencing policy.
---
Posted: August 30, 2015
Filed under:
Uncategorized
Leave a comment
Great read.

The other benefit of being 'green' or a card-carrying member of the climate "cult", is that you no longer have to tell the truth. Any falsehood or exaggeration you utter is just a sign of your commitment, not of your deceit.
Watts Up With That?
Global warming has become a religion
This is the opinion of Nobel Prize Winning Physicist Dr. Ivar Giaever , Prof. Richard Lindzen, and many others. Climate change alarmism has a surprising number of attributes of a medieval or even ancient religion. Nevertheless, real religions have some pre-requisites, like a tradition spanning at least few generations. So the proper name for climate alarmism is a cult. And these are the telltale attributes:
1) Climate alarmists pretend to possess indisputable truths about the past, present, and future. From minute details of the paleoclimate to the world state 200 years in the future, alarmists know everything.
2) The alarmist movement stubbornly refuses to debate its dogma, calling it "settled science" and viciously attacking its critics. The attacks are not limited to name calling but include prohibiting scientific research that contradicts this dogma. Significant figures within the movement call…
View original post 1,681 more words
---
Posted: August 30, 2015
Filed under:
Uncategorized
Leave a comment
Real Science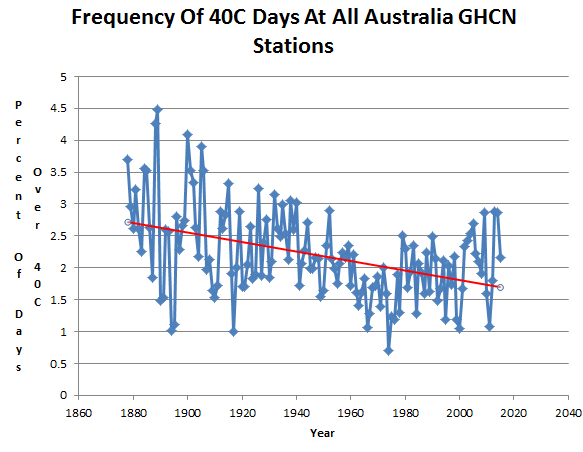 Contrary to the lies of climate criminals, hot days in Australia have become less frequent, not more frequent.
---